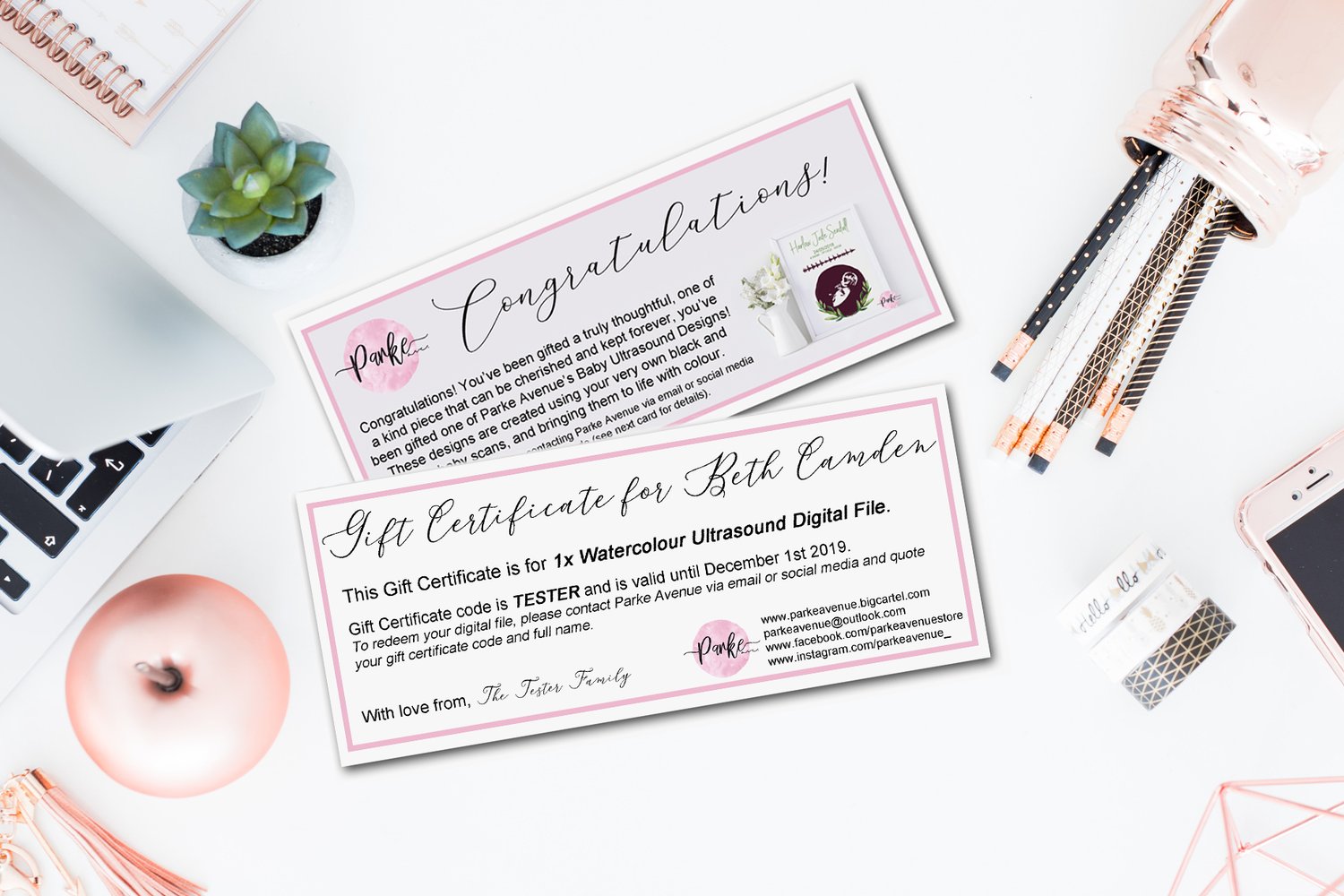 There's a few reasons why my gift certificates are seriously the best gift ever!
1. You can gift someone a truly beautiful, one of a kind, keepsake design that they can cherish forever, thanks to you!
2. You don't even have to leave your house to do it, simply purchase online and wait for it to be emailed to you where you can then print it at home or email on to your loved one.
3. My gift certificates don't show a monetary value (say goodbye to awkwardness).
4. Even the gift certificates are personalised! Featuring yours and your recipients names, so they remember who bought them the best present ever!
5. They are valid for a whole 6 months long, so if gifted for a baby shower your loved one can wait until they get that perfect baby scan before ordering.
How to order:
• Choose the design you'd like to have added to your gift certificate (this will be written on the gift certificate rather than a monetary value).
• When checking out, use your full name and details but in the NOTES section please add your friends full name and the name/s you would like your gift certificate to be from.
• Your gift certificate will be emailed to your provided email address within 24-48 hours (please contact me if you need it sooner) where you can then print it from home or email/forward on to your loved one to use.
Gift certificates are emailed as high resolution digital files, they are perfectly sized to be printed out on A4 paper, and then cut out and placed in an envelope - ready for gifting!
How to use a gift certificate:
• Contact me via email (parkeavenue@outlook.com) or social media and quote your reference code on your gift voucher, we can then organise your beautiful new design together!
Important:
• Gift certificates cannot be purchased or used with any other discount.
• Gift certificates are valid for 6 months.
• Gift certificates cannot be redeemed for cash or refunded.
• Gift certificates are valid worldwide (excluding the timber keepsakes, they are available to be redeemed within Australia only.